Diane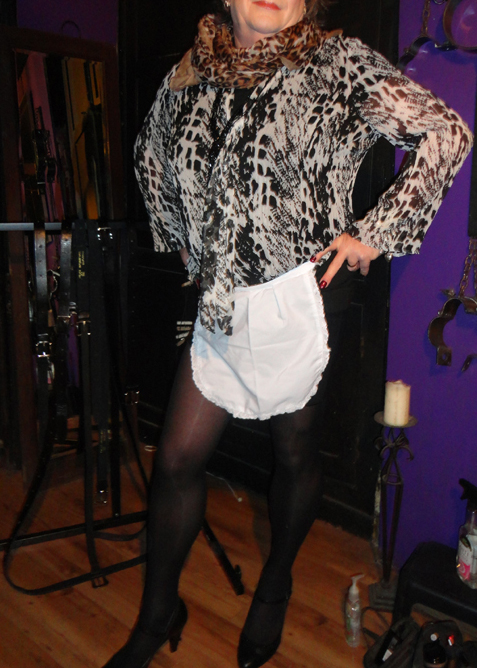 I TOLD DIANE BEFORE SHE LEFT FOR HER JOURNEY ,
!! DARLING YOU DO REMEMBER THAT I PROMISED THAT YOUR LIFE WOULD CHANGE AND HAS
DONE SO LIKE MANY OTHERS !! , [ I LAUGHED ] BUT KNEW I HAD HIT A NERVE WITH HER ,
YES I KNEW IT WAS GOING TO BE A LONG DAY / NIGHT FOR HER
BUT ALSO A LONG LIFE.
!! DIANE OR SHOULD I SAY MY SISSY WHORE / BITCH THE MORE YOUR ADDICTION GROWS
THE MORE YOU WILL BE DEGRADED !!
AND CLOSED THE DOOR , AND SMILED AT THE THOUGHT .
WICKERED BUT SO BEAUTIFULLY CRUEL .
DIANE TRANSFORMED AND PIMPED OUT AS
MAID TO SERVE
FOR MISTRESS ELIZABETH
After much deliberation I had managed to sort out my maids outfit, not easy as I was to report to Mistress Elizabeth to change and then I would be driving to my new job. Details were not given at this stage.
My first day as a maid arrived. I was at Mistress's early to change and makeup, I took great care with my appearance. I had chosen to wear white lingerie, but with black stockings topped off with white frilly garter, a had decided on a black tulip skirt, black and white silk blouse (white yoke and sleeves), the blouse had a high neck. Mistress Elizabeth advised on minimum jewellery, but decided to wear a little more than was required. Makeup was quite heavy, dark eyes and false lashes, makeup was heavy but I was going to wear some large sunglasses for the journey to work. I had chosen "BIG hair" wig (I call it my Pauline Precott wig) – not quite the subtle maid but – I love being feminine!! The Maids Apron was folded neatly into my black leather bag (matched my black leather 3" heels).
Having been left to my own devices to dress I was now to be inspected by Mistress Elizabeth. I could sense her displeasure as I had gone a little too far with the "inappropriate" skirt, hair and not to mention my "signature" polished red nails. She roughly put some cuffs on my wrists and ankles, attached my wrists cuffs to the electric hoist, pressed the button and the hoist whirred. I was stretched – not too hard but uncomfortable, the leg spreader bar forced all the weight to my arms – it is not easy wear high heels and have your legs spread.
Mistress explored beneath my skirt, checked my underwear, the stocking tops and generally went over my whole outfit. I was given 6 strokes of the cane across my backside, she then lowered my skirt - I can still sense the silk against my burning flesh if I close my eyes.
I watched as she picked up all my male belongings and once again locked them in the cupboard, the key went on the chain, she knew that I was watching as the key fell between her breasts.
My wrists and ankles were released and I was given time to readjust myself and fix makeup, I was handed an envelope, on the outside were my instructions – I was to meet my Master in a Tesco Car Park in Liverpool – about a 40 minute drive – I had instructions where to park and wait for Master.
Mistress Elizabeth made me stand whilst she inspected Maid Diane – "You will do – but you have gone too far with the nails and the hair – your new Master will NOT be pleased." I was instructed to report back that afternoon when I had finished work, my Master would provide full feedback on my days work. Punishment would be given for any adverse comments.
I left Mistress Elizabeth's, a strange feeling, out in the world as Diane, my male identity taken from me, no choice but to do anything that was asked of me.

It felt wonderful as I drove away, the feeling of the restrictive female clothes, the tight underwear, the naked thighs below the silk of my skirt. Checking my perfect nails, checking lips, eyes and hair in the mirror before I drove off.

For now my world as Diane felt sooooo gooooood. I just knew that I would soon be facing a new challenge. Employed for the day as a Maid to a Master, a Master who had already run his hand up my skirt during the interview.

I had no option but to return to Mistress Elizabeth at the end of what looked like being a long day, Not forgetting the envlope that the Master gave me on my way out to hand Mistress Elizabeth knowing it was the report about myself , Master did tell me i shall of course phone your Mistress, to say that you are makeing your way back , and that i have given you a report to hand to her , I gave a Cursty to The master and said thank you Master for haveing me [ that was rule Mistress Elizabeth taught me and one never o forget, , , As i Made my way to the car slipping the envlope into my hand bag ,but not knowing what was written inside it , [ guess thats a punishment of not knowing